2023 Top Gun Award
November 6, 2023
www.highground.org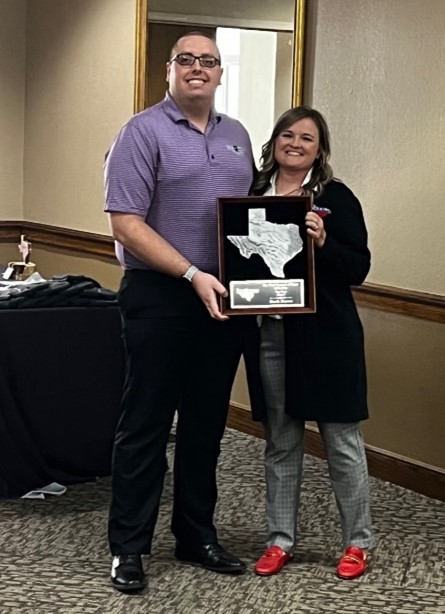 Heath Haynes, Executive Director of the Denver City Economic Development Corporation, was presented the coveted 2023 Top Gun Award at the 2023 High Ground of Texas Annual Membership Meeting. The meeting was held in Plainview on Thursday, October 26th, 2023.
The High Ground of Texas Top Gun program was initiated to recognize those High Ground members who continually represent the organization and the region in a positive light, going beyond the call of duty, going the extra mile when assistance is needed and providing the leadership needed to raise the High Ground to the highest level. The Top Gun Program began in 2002 and was renamed in 2009 the "David Evans Top Gun Award" in memory of our friend & colleague, David Evans.
This year's Top Gun, Heath Haynes, has consistently displayed his support of regionalism and his professionalism has added tremendous value to our organization. says Kasey Coker, Executive Director of The High Ground of Texas. Heath has served on the Board of Directors since 2019 and serves as the High Ground Vice-Chairman.
"During his tenue in Denver City, this young man has positively impacted our community far beyond expectations. He is a natural in this business and has an intuitive ability to work with people and bring success to his efforts. We are very fortunate to have asked this professional to join our team!" says Denver City EDC President, Bill Helwig.
Heath has demonstrated exceptional commitment to his community, engraining himself in the city through active involvement in community service and establishing his roots. His ongoing dedication to supporting the region highlights the pivotal role of individuals who bridge the gap between community and regional progress, shaping a stronger and more stable future.
Heath has been with the Denver City EDC for the since 2018.
Previous Top Gun Award Winners are Kristen Moudy (Wheeler), Gina Woodard (WT SBDC), Kenny McKay (Lubbock), Mike Fox (Plainview), Clay Rice (Pampa), Morse Haynes (Monahans), Terry Wegman (Big Spring), Shawn Campbell (Perryton), Wesley Burnett (Odessa), Kathy Allen (Stratford), and others from across the sixty-eight county High Ground of Texas Region.