Doug Nelson and David Rushing Receive Career Achievement Awards
November 6, 2023
www.highground.org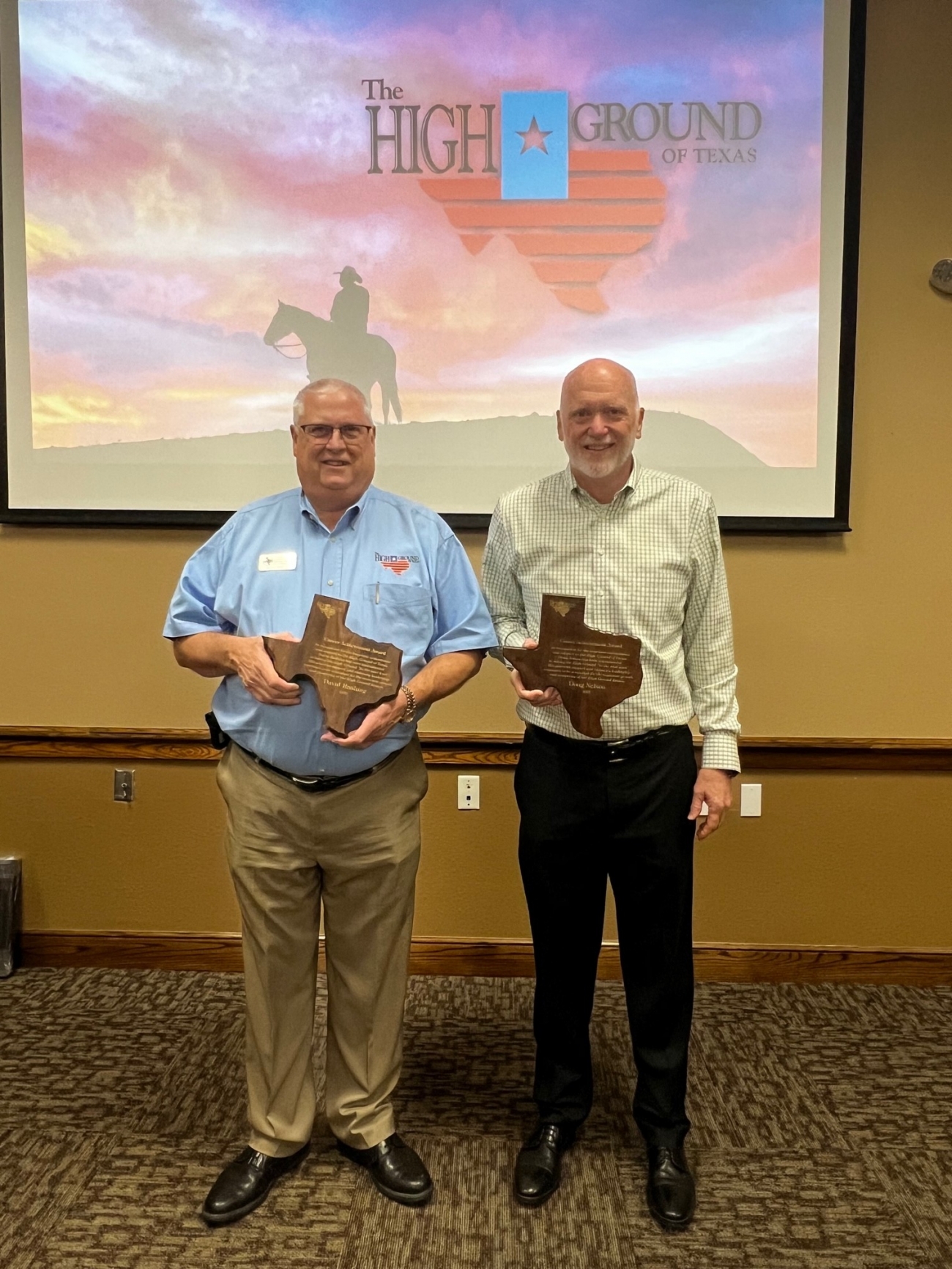 The High Ground of Texas held the 2023 Annual Meeting on Octoer 26th in Plainview, Texas. The event hosted 85 members and guests from the High Ground of Texas member communities. This year marks the 35th anniversary of the organization. Originally formed in 1988, the organization has grown to represent a 68 county region. Members work collaboratively throughout the year to market the region and create new opportunities for growth and investment in the region.
Doug Nelson, Amarillo EDC, and David Rushing, Lubbock EDA, were recognized for their long time commitment and support to the High Ground of Texas. The Career Acheivement Award is given to those individuals that have been instrumental in taking The High Ground of Texas to the next level. Their generous support and visonary leadership continues to be a catalyst for the economic growth and prosperity of the region.
Doug Nelson's career has spanned decades in public service. He was instrumental in shaping The High Ground of Texas organization's vision in the early years of reorganization in 1998. In a remarkable testament to his foresight and unwavering commitment, he played a pivotal role in crafting the vison that our organization holds dear to this day. Back then, the group was seeking ways to exted its reach, expand membership, and passionatly advocate for the economic growth of West Texas. We can trace the foundation of the initiatives that have become synonymous with The High Ground of Texas to the guidance and leadership of Doug Nelson.
David Rushing has had a huge impact on The High Ground of Texas since joining the Board of Directors in 2002. It's not just his impressive tenure that sets him apart, but the diverse role he has embraced within the organization. He has experienced our journey from various perspectives, having represented one of the smallest members to now on of our esteemed Foundation Members. This journey not only reflects his versatility but also highlights his unwavering commitment to our shared vision for West Texas.
Doug Nelson and David Rushing have both mentored many members and are living embodiments of our organization's values. The High Ground thanks these individuals for their long time contributions.